PAST EVENTS
ED WRIGHT: Composer
Accretion Entropy (Trio)

@Gŵyl Afon Ogwen River Festival

30/9/17 8pm
A great and varied line up this year kicking off at 8:45 with Gerlan band Farside followed by a set of Bob Temp and band's quirky country based songs at 9:30. A change of direction at 10:15 with experimental electronica by Accretion Entropy (Ed Wright Charles Gershom and Rob Spaull). Finishing off the night at 11:00 will be Lolfa Binc.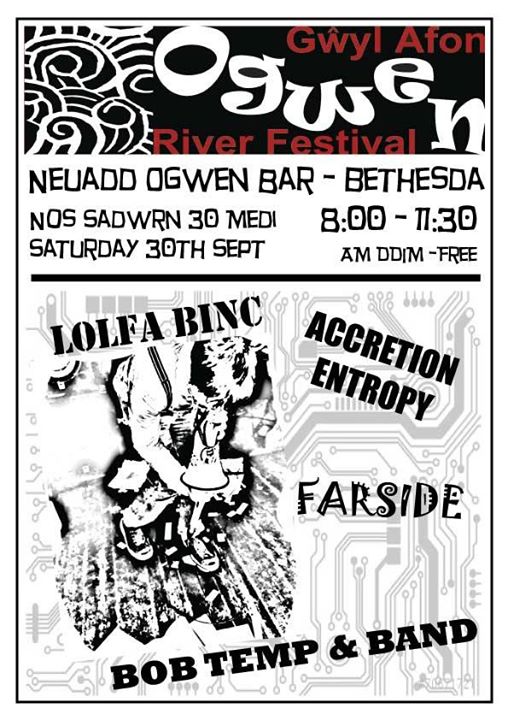 Listen to the voice of fire: alchemy in sound art

National Library of Wales Aberystwyth

30/3/17 All day event

Experimental music alchemy. Listen to the Voice of Fire is a symposium and irregular experimental music performance and improvisation project based in Aberystwyth.
OscilloScope

Tŷ Gwydr | Greenhouse Bangor

27/9/16 6:00-9:00pm
OscilloScope is a monthly event based in Bangor (North Wales) focusing on electronic experimental music.
It is set up as a performance and developmental event where composers and artists are encouraged to come and trial new work in front of an audience made up of other creative types and members of the public.

With a performance space, use of a quad speaker setup, and chance for artists to go out on a limb in a supportive environment and audience members to hear something genuinely new.

Its a free event but any donations to cover costs would be greatly appreciated.
With performances by an illustrious line-up and yours truly mopping up along the way it promisses to be a great evening and best of all it is free... and comes with tea and biscuits! Hope to see you there.
(PROTO)ELIPS
Tabernacle: Mostrn Street Llandudno

13/8/16 6pm Launch (other performances TBC)
A very large scale experimental instrument is being built in the Tabernacl Baptist Church at the top end of the high street in Llandudno. The idea is Jenny Hall's (http://craftedspace.co.uk/, https://www.facebook.com/craftedspace.co.uk/posts/1272702682742077) who hails from Machynlleth and is constructing the piece with the aid of Roger Hughes and Ed Wright.

Artist Jenny Hall has been busy this week installing a giant musical instrument that's supported by the structure of the Tabernacle in Llandudno. You are invited to pluck, hit, knock, bow and listen to the sounds made by the (proto)elips installation.
Musicians and sound artists will also interact with the installation, creating music and soundscapes.
The immersive sound made will be a product of the player, the instrument and the Tabernacle itself.
OPENING ON TUESDAY 13TH SEPTEMBER AT 6PM
All welcome to come and play!

There will be an opening on (this) Tuesday 13th September with performances from...

Helen Wyn Pari - who has been involved in performances at the Tabernacl in the past and created peices for it and so knows the space well, including Distawrwydd (https://www.youtube.com/watch?v=HIuHmenWgz8) with Eddie Ladd, and the music for Sarah Younan's - The Source (https://www.youtube.com/watch?v=nDksopOy0T0).
Helen will be trying out a new 20 minute idea of her own on Tuesday working with the space, her Harp and the (proto) elips, under the working title of 'Echoes of the Past' which should be great.

Ed will also creating a 20 minute piece for the evening, for which he's not revealed a great deal of detail but promises to be very experimental, to fit in with the project. More info on Ed here http://www.virtual440.com/

Come along if you can as this will be a very unique event, and there is the opportunity for the following 10 days up until and including the LLawn Arts Festival weekend (http://www.llawn.org/) for musicians of all sorts to book in and come and have a go with the (proto) elips and experiment with and give feedback. Contact me directly to check availability, but there is a degree of flexibility, and can email more info re the (proto) elips project if i've not sent you info already.

Food (cake) & drinks available at the opening from 6pm.

This is a CALL (Culture Action Llandudno) project https://www.facebook.com/cultureactionllandudno/?fref=ts
OscilloScope

Tŷ Gwydr | Greenhouse Bangor

28/6/16 6:00-9:00pm
OscilloScope is monthly event based in Bangor (North Wales) focusing on electronic experimental music.

It is set up as a performance and developmental event where composers and artists are encouraged to come and trial new work in front of an audience made up of other creative types and members of the public




https://www.facebook.com/events/1321244274559627/
https://oscilloscopeblog.wordpress.com/

dronesTruck Sound Art Exhibition
Como Park Shelter Hamline University Minneapolis USA

5:30-7:30 p.m 12/5/16

dronesTruck, a collaboration between Hamline University's Digital Media Arts and English departments, will hold its first Sound Art Exhibition on Thursday, May 12 at Como Park Shelter from 5:30-7:30 p.m. dronesTruck serves as a tool to connect curriculum to community. The event will feature sound art pieces exploring the ways in which sound tells about the environment by creating an accessible public forum to advocate for sound art and artists.

In collaboration with Hamline University, pieces will sonically represent the partially unrepresentable world of the electromagnetic spectrum. In a public display via the university's dronesTruck program, artists' work will create community discussion on advancing the medium of sound art.
https://www.hamline.edu/inside/hamline/2016/dronesTruck-sound-art-exhibition/
NoFit State and Pontio's BLAS project presents...

Mae Yna Le/There is a Place
Theatr Bryn Terfel, Pontio, Bangor

12-13/03/16



Where do you go when you daydream? To a back alley or a treehouse? Do you hide in an attic full of boxes or behind a big sofa? In a wardrobe or a basement full of rickety old chairs?
Is it a white space, like a blank canvas that you paint a different colour every time? Or is it dark and full of voices? Do you lay your head on pillow-fulls of words and music or hang upside down from a tree branch so you can see the world with different eyes?

This performance creates a place, a past, a sound, a pleasure, an image: unknown histories and unspoken memories and dreams. A highly visual, physical spectacle where theatre, circus, film and live music blend to make your heart soar skywards.

There is a place where I can touch, smell and feel my dreams.

How dare you call it unreal?

Conceived and created by Firenza Guidi, this is an exciting theatrical community event to celebrate the opening of Pontio in partnership with Pontio BLAS project, Canolfan Addysg y Bont, Ysgol Friars, Ysgol Bro Ddewi, Ysgol Hirael and Ysgol Glancegin as well as Ed Wright of Electroacoustics Wales. With thanks to all the poets who worked closely with Pontio to make the HaDAsyniaDA (Seeds of Ideas) project a reality and inspiration for 'There is a Place': Tudur Dylan, Karen Owen, Gerwyn Wiliams, Ed Holden, Sian Northey, Eurig Salisbury, Llion Jones and Dewi Pws.

Tickets available here https://www.pontio.co.uk/Online/default.asp
Improvisers' Network - Wales @ Bangor University
5/3/16 5:30-7:00pm
You are cordially invited to join us if you are excited by the creative and alternative arts and the process of
free improvisation.

Members of the Improvisers' Network – Wales will be giving performances of free improvisation on the Tŷ Cerdd Stage at the Bangor Music Festival with a discussion to follow each performance.
http://www.improvisersnetwork.co.uk/wales/wales

Llawn 03: LLANDUDNO ARTS WEEKEND #3

18th-20th September 2015
A sonic/sculpture project with Charles Gersholm taking place on Llandudno Promenade as part of Llawn 03. Come and play with our windmills :)
Check out the blog as the project unfolds Llawn_windmills
Details available at: http://www.llawn.org/llawn-events/sonic-wave-laboratory/
Wet Sounds: Bangor Swimming Pool

8pm - 7/3/14

Premiering a new work produced in collaboartion with Simon Proffit under the title of I, Demons...
In Bangor Swimming Pool on Friday 7 March 2014, people will have the opportunity to attend unique alternative music event Wet Sounds. The audience will float in the water rather than sit in theatre seats, while listening to performances by well travelled surf rockers Y Niwl, Joel Cahen and Chaparral Andrew Hodges, through special underwater speakers.
Soundlands & Bangor Sound City, in association with Pontio, bring this unusual event for second time to Bangor following the sell-out success of the previous show in 2011. Also in the pool will be underwater live-art scuba by Megan Broadmeadow and new water choreography by Lisa Spaull.
Wet Sounds creates separate sound spaces in Bangor Swimming Pool, one under the water, one above – you choose your own mix as you float on the surface, dive below or lounge poolside.
Dominic Chennell, one of the organisers, said:
"It's great to be able to bring Wet Sounds back to Bangor following the success of last time, and the line up this time promises to appeal to all, with a mix of performances, sound artists and musicians playing through speakers under the water as well as above the water. We also change the lighting in the pool, so do not expect the normal swimming pool experience - this is very different from a splashabout or a swimming session!"
He added: "We advise you to book in advance because it was a sell-out last time, we don't want anyone to be disappointed. Everyone is welcome."
"Astonishingly immediate, inescapable" The Guardian

"astonishingly immediate, inescapable" - The Guardian "like being in the womb" - Mizled Youth

"exhibitions don't get much more successful" - The Wire
Wet Sounds starts at 8pm and tickets are available from Pontio: 01248 382828 or www.pontio.co.uk or in person at the Pontio shop, High Street Bangor. £10 / £7 concessions.
Bangor New Music Ensemble
14/3/14 - 1.15pm

Deiniol Shopping Centre, Bangor
Programme to include new works by Katherine Betteridge, David Draper, Nel Gwynn and Fran Reader and others
While using the balcony at the Deiniol Sopping Centre that overlooks Bangor High Street, this concert will draw passers by to an intriguing portrait of the most famous poets of all, William Shakespeare. With four premieres of works by student composers inspired by the famous poet, the scene is set for some dramatic musical experiences.
Piano Burning: Annea Lockwood
Sat 29th June 6:45 The Old Goods Yard Bangor.
Bangor Sound City and Soundlands in partnership with the Harwich Festival of the Arts and The Old Goods Yard Artists' Collective present a performance of 3 of Lockwood's 1960's-70's Piano Transplant series. Annea will be performing alongside guests Xenia Pestova, Sarah Westwood and Ed Wright, along with live video link ups to the other two works:
Piano Burning - The Old Goods Yard Bangor
Piano Garden - Gwydyr Forest
Eastern Exposure - Harwich Beach
The will also be responses to the work from members of
Blipfonica Live - St Paul's Church Penmaenmawr
18th May
The 3rd in our series of events exploring the relationship between electroacoustic music , "live instruments " and space. All in a beautiful quaint church built in the late 1800's.
The programme is
Artz for kids presents - 4'33 - John Cage
Alter Piece - Emma Louis
Sound Then Silence ? - Ethan Finnegan
Ed Wright - Y Twr
Michael Kirkpatrick - Verbigerate - Movement III
Wayfaring Saunter
Kate Campbell - When Darkness Falls
Expressions of the Piano – performed by Kate Campbell and Sarah Westwood
Ed Wright - Anatomy of a Mountain Stream

INTERVAL

Gorwel Owen: Wires performed by Ed Wright ( violin ) Katherine Betteridge ( violin ) Sarah Westwood ( Piano ) Robert Thompson ( Bass Guitar )
Kate Campbell: Six Degrees of Separation performed by Katherine Betteridge and Kate Campbell
Kate Campbell: Little Glass jars
Ed Wright: Crosswire performed by Katherine Katherine Betteridge
CODE CONTROL - Phoenix Cinema and Arts Centre, Leicester
22nd – 24th March 2013
Phoenix Cinema and Arts Centre in Leicester will be hosting its 3rd international conference for artists, musicians, students and teachers to explore software which enables the development of unique sounds, stunning visuals and engaging interactive media
Running from the 22nd – 24th March 2013, Code Control will bring together users Max, the popular programming software created by Cycling '74.
THE GOOD ROBOT - Hendre Hall, Bangor

29nd – 30th March 2013
THE GOOD ROBOT is solely programmed to upload some advanced electronics into its new habitat, plugging the locality into the mainframe of sumptuous house, futuristic techno and everything wired in between. There's nothing artificial about our intelligence: a hand-picked master-array of DJs, artists and all-round nightowls make up the cerebral motherboard of The Good Robot, as we stamp our own imprint on the already superb venue just outside Bangor... 

Hendre Hall
Aber Rd, Bangor,
Gwynedd LL57 3YP
Blipfonica Goes Underground - Downstairs at Fat Cats Bangor
9th November 2012
Following a summer being wonderfully parental the Blip Camp is now back on form.
We are kicking off a series of events in the downstairs bar of Fat Cat Bangor with a line up that will truly mystify. This will be our first event that lauches in our new venue , and the line up is delectable - so far included are:
Ed Wright - live violin and software compositions
Michael Kirkpatrick - Wayfaring Saunter and Movement 3
Kate Campbell - C'est La Vie
Allilepidrasi: its an improvisation with software built by the composer for live electronics and violin -   Composer: Kimon Emmanouil Grigoriadis      Performer: Katherine Betteridge
and more to be confirmed.
How will we mystify ........?
It will be a ( as ever ) a truly situational experience ...  you just have to be there.
entry -  only £2

ICMC2012 (International Computer Music Conference)
9-15 Sept Ljubljana Slovenia


Since 1974 the International Computer Music Conference has been the major international forum for the presentation of the full range of outcomes from technical and musical research, both musical and theoretical, related to the use of computers in music. This annual conference regularly travels the globe, with recent conferences in the Americas, Europe and Asia. This the conference visits Slovenia for the first time.
The 2012 International Computer Music Conference will be held in Ljubljana, Slovenia. It is organized by IRZU - the Institute for Sonic Arts Research and supported by the Faculty of Computer and Information Science as well as the Faculty of Arts, University of Ljubljana. IRZU is a young non government organization, based on an interdisciplinary concept and is conducting artistic productions in the field of electro-acoustic music / inter-media performances and installations, as well as audio technology research and educational activities. The ICMC 2012 will be held in collaboration with our annual sonic arts festival EarZoom which is becoming a referential international platform for discussing the latest developments within audio technology research well as critical and conceptual approaches in sonic arts practices.
http://www.icmc2012.si/index.html
Piece to be performed – Postcards From Home
Toronto Electroacoustic Symposium (TES) /
Symposium Électroacoustique de Toronto (SET)

15–18 August 2012.
Toronto Canada



Toronto Chair: Emilie LeBel. Keynote Lecturer: Trevor Wishart.
http://cec.sonus.ca/events/TES/TES_call.html
Piece to be performed - Crosswire
Scaledown 27th July
London
An ongoing series of genuinely alternative after-office live entertainments.


Cauldrons and Furnaces 1 July 2012
The Cultural Olympiad in Wales
Caernarfon Castle
This exciting three-year Cadw initiative will showcase the rich cultural diversity of our small nation through a wide range of creative activities at eight historic sites. These are namely Caernarfon Castle, Harlech Castle, Flint Castle, Denbigh Castle, St Davids Bishop's Palace, Laugharne Castle, Blaenafon Ironworks and Caerphilly Castle.
Cauldrons and Furnaces is designed to mirror the celebrations leading up to London 2012 and is a partnership between Cadw, the Welsh Assembly Government's historic environment service and the Arts Council of Wales with funding from Legacy Trust UK. The variety of colourful events on show will include community art workshops, dance, music and creative crafts activities.

Caernarfon Castle
Castle Ditch
Caernarfon
Gwynedd
LL55 2AY
01286 677617
BEAM Festival 22nd – 24th June 2012
Brunel University (London)


BEAM is a high-tech music weekender, a playground of homemade instruments and sonic installations, where you can listen to, watch and learn how to create your own physically living electronic music.  BEAM was devised by Artistic Director Sarah Nicolls to explore the potential physicality of electronic music. The focus on electronic music being created LIVE is explored through a programme of performances, demonstrations, installations and workshops. BEAM brings together a global audience of artists, researchers, DIY electronics builders and enthusiasts, from beginners to veterans.
For more details see http://www.beamfestival.com/
Risk of Shock 21st June 2012
JP Hall Bangor University Wales
Including works from Richard Garret, Ed Wright, Rob Mackay and the Pelydrau education project as well as performances from rising star clarinettist Sioned Eleri Roberts, Risk of Shock's 7th  concert promises to be an interactive and engaging event second to none.
For more details see www.riskofshock.org
UH SONIC 17th May 2012
University of Hertfordshire
UH Sonic (formerly Mayfest) is the University of Hertfordshire's annual music festival run by students and staff and open to all. On show are works by students, staff and guest artists. We welcome our audience to share with us the creativity and talent of our dedicated artists.

Admission: Free (booking required)

To book your place please contact Roberto Filoseta: r.filoseta@herts.ac.uk

The John Lill Music Centre, College Lane Campus, Hatfield, Hertfordshire, AL10 9AB
Inventor Composer Coaction (ICC)
Edinburugh 9th May 2012
Interdisciplinary collaboration from new musical inventions to new musical creations

My extended instrument/piece of music structure Crosswire is part of this!

The Inventor Composer Coaction is a novel project designed to facilitate collaboration between composers and developers of bespoke digital or electronic instruments, for the creation of new music. It will take place at the Department of Music, University of Edinburgh, during the first half of 2012.
We invite inventors of new musical instruments to submit examples of their work. These will be displayed on this web page, creating a public archive of new electronic instruments. The submissions will be reviewed by a group of upcoming and established postgraduate composers, at the University of Edinburgh. The composers will each select an instrument by way of a voting process. Over a three month period they will compose a new work for the instrument and the Red Note Ensemble, assisted through close communication with the inventor. The compositions will be performed in a concert of new music, Edinburgh, in 2012.
The project aims to create discussion and make progress in the following areas:
ICC is generously supported by an Innovation Initiative Grant from the Edinburgh Fund, and by the
Roberts' Fund for Researcher-Led Initiatives.

http://www.inventorcomposer.net/
Leeds International Festival for Innovations in Music Production and Composition
Thursday 26 - Friday 27 April 2012

The International Festival for Innovations in Music Production and Composition is an annual event focusing on research and practice related to innovations in Music Production and Composition. The goal is to bring together composers, producers, music industry representatives, academics, educators and research students to discuss their practice, research and industry experiences; The Forum encourages participants and delegates that represent the commercial music industry and academia. Past keynote speakers have included Bill Drummond (KLF, pictured), Jazzie B (Soul II Soul, pictured), David Toop and Leigh Landy.
http://postgraduate.lcm.ac.uk/leeds-international-festival-innovations-music-production-and-composition
Safle Celf (Art Space) 2-13 April 2012
Galeri Caernarfon

INTER/actions: Symposium on Interactive Electronic Music
Bangor University School of Music 10-12 April 2012
INTER/actions will be a three-day symposium and mini-festival focusing on performance and interaction in electronic music. We aim to provide an environment to exchange ideas and instigate collaborations for composers, performers, sound artists and music technologists interested in the role of the performer in electronic music, whether in the traditional sense, or audience-as-performer. We are looking for crea tive proposals for performances, interactive installations and paper sessions.
Featured composers and performers: Karlheinz Essl (Vienna), Lauren Sarah Hayes (Edinburgh), Andrew Lewis (Bangor), Xenia Pestova (Bangor), Pierre-Alexandre Tremblay (Huddersfield),  Ed Wright (Bangor).
In collaboration with Electroacoustic Wales, GEMINi (Gestural Music Interaction) Research Group, Risk of Shock and Bangor Sound City
http://www.riskofshock.org/interactions.html
Bangor New Music Festival 10th March 2012
Saturday 10th March 2012, 11am-5pm - St Cybi's Church, Holyhead
Who can hear the sea?
An electroacoustic installation inspired by the sea and devised by Ed Wright, with additional performances of compositions by pupils from Ysgol Llaingoch and Ysgol Parchedig Thomas Ellis.
Sound Installation for: Surround sound audio and max/msp programming.
Who Can Hear The Sea? is a sound installation commissioned by the Bangor New Music Festival. The sea is a major theme of this year's festival as well as being a fascinating subject for recording. In developing this piece I tried to record the sound of the sea, free from outside influences such as: wind, road noise and sea gulls, but gradually became aware of a number of issues that arise.
Beside the practical issues of trying to find a silent beach on a windless day, with big waves, water by itself makes little or no noise; it is the matter and energy around it, in it, acting on it and contained in it that makes it sonorous. In addition to this there is the dynamic but structured nature of the sea, it is constantly changing, in an incredibly complex, yet ordered way.
Who Can Hear The Sea? Uses recordings of sea waves as its basis and then uses computer processing and techniques such as subtractive synthesis to shape confine and restrict these sounds to create a number of sonic objects or 'musical' statements.
These sound objects have then been edited together to create 8 audio loops, the longest of which is 7'02" and the shortest of which is 5'59". These loops all play simultaneously and repeat as they reach the end of each play through. Thus the different loops move in and out of phase. Not only does this make for a constantly changing piece, it means that just like the sea you can listen to it and hear ongoing similarities but it will never be quite the same again; as for all the loops to come back to the start and line up exactly it would take 1875 years, 1 day, and 16 seconds (roughly)!
California State University New Music Festival 3rd March 2012
California State University New Music Festival 3rd march 2012
W.E.A.L.R
World Electroacoustic Listening Room
10am-6pm (local time)
California State University Fullerton C.A. USA
http://www.fullerton.edu/arts/music/2011-2012events/march2012.html
Con-chords will be played as part of this event.
Blipfonica Live 11/2/12
The second event in our programme exploring the acoustics of churches in Wales. A varied programme of  experimental sonic compositions and improvisations  including works by Ed Wright, Emma Louis, Allen Ince , Chaparral Andrew Hodges and Roy Woods .
We are also very very proud to be bringing experimental genius Simon Jones ( Noise Club , Frakture )  in from Liverpool, under the guise of HOT HAIL  his solo project. http://hothail.bandcamp.com/ His work is very visual as he creates, loops and manipulates sounds live usuing a miriad of instruments in unexpected ways.
Capel Ebeneser, Chapel Street Caernarfon. LL55 2PR  ( just off the square )
Tickets £5 / £3  under 12 free
Blipfonica Live
19/11/11 Penrallt Bangor.
Blipfonica artists are working with an especially selected ensemble of classical musicians from Bangor University to bring you a unique presentation in wonderful surroundings. Combining live electronic compositions with live strings in amazing church acoustics. This promises to be our most mind blowing event yet .
Featuring works by -  Ed Wright ( Starlight Snowfall , The Way I Saw It )
Chaparral Andrew Hodges ( Musical Con Sequences - world premiere )
Bright Anti - Star, Allen Ince, Jo Cakebread and more .
The repertoire is diverse, as you would expect from Blipfonica, from purely electroacoustic, classical, mainstream pop, and experimental, so there truly is something for everyone.
The venue has superb acoustics, idealy suited to the full audio quality of this dynamic event, Penrallt Church Upper Bangor has held concerts for the likesof harpist Ctrin Finch previously. And we are deeply honoured to be able to play our concert in such an amazing church.
Tickets are only £5 ( £3 with student /oap card ) and under 12's are free.
if you are interested in purchasing your tickets in advance please e-mail blipfonica@yahoo.co.uk
Blipfonica Proms. Saturday november 19th
Penrallt Church, Upper Bangor LL57 2EU  www.penrallt.org
Risk Of Shock 21 Oct
Bangor University
Risk of Shock is an ongoing series of concerts and events focusing on electronic music culture, sonic art and the developing interface between technology and performance. Kicking off the 2011-12 season we have:

Peri-Phonis - Kimon 'Ninos' Emmanouil Grigoriadis
Magnitudes - Chaparral Andrew Hodges
La Voz del Fuelle - Diana Salazar
Pashmina Shawl - Roy Woods
Live Study - Ed Wright

It promises to be an amazing, eclectic and ground breaking event.

Bangor University,
Bangor,
Gwynedd LL57 2DG

http://www.riskofshock.org/
Blinc 22-23 Oct
Conwy
Blinc is a two day, site-specific festival of light and sound based artworks that will run in parallel with the Gwledd Conwy Feast food festival on 22nd and 23rd October 2011.
Amoungst other works there will be of Ed's commisioned collaborations with: Dominic McGill, Helen Booth, Wendy Dawson & Tim Pugh
Installation works running all day. Video projections on the castle visable form the quay at 7:15 and 8:15 pm.
The Good Robot 1 Oct
Hendre Hall (Tal y Bont)
THE GOOD ROBOT is solely programmed to upload some advanced electronics into its new habitat, plugging the locality into the mainframe of sumptuous house, futuristic techno and everything wired in between. There's nothing artificial about our intelligence: a hand-picked master-array of DJs, artists and all-round nightowls make up the cerebral motherboard of The Good Robot, as we stamp our own imprint on the already superb venue just outside Bangor... 

Hendre Hall
Aber Rd, Bangor,
Gwynedd LL57 3YP
Open Studio - Helfa Gelf
3rd & 4th, 10 &11th,
17 & 18th, 24 & 25th
Sept 2011 11am-5pm
Performing in addition to these events on:
Penmaenan Community Centre 7pm 9/9/11
Y Galeri Caernarfon 7pm 16/9/11



Frakture 10 July
St Lukes 'Bombed Out Church' (Liverpool)
Frakture: St Lukes All dayer Impro Day
Altar Pieces #2 Sunday
12.00 - 18.00
Church of St Luke "Bombed Out Church" Leece Street Liverpool L1 2TR
Venues: Wales,
England

,
Ireland

,
Scotland

,
Mainland Europe
,
USA
&
Canada